Welcome to my tech website!
This site is going to be the host of information about the computers and some other devices I own as well as a place to download useful tools. The majority of the site design is heavily influenced by MCbx's old computer collection website. Check it out here.
If you're looking for my other website related to roads, you can visit it here.
---
Site news:
| | |
| --- | --- |
| 1/6/2022 | Converted all pages from HTML to PHP to make it easier if I want to modify the website header and footer in the future. Also, added a new page for resources. The resources page will host cool software or other resources that I personally make myself or have permission to host. To begin, there is a download available to get automatic updates working again on Windows XP. I gathered up all the prerequisites and put them into a simple installer for everyone's convenience. You can see more info about it on the resources page. |
| 1/5/2022 | Fully updated the computer list page and My Other Sites. Archived the 2021 site news to the Site News Archive. |
---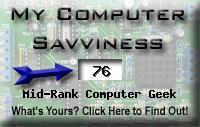 Page last updated: 1/6/2022